Pipe Cleaning
Lot maintenance offers a wide variety of pipe cleaning, vacuum and video inspection services to a wide range of customers. Included in these are large and small municipalities, utility contractors, developers, engineering firms, other pipe cleaning contractors and individuals.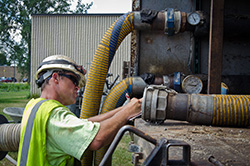 SEWER CLEANING
Lot Maintenance is equipped and staffed to perform both hydraulic and mechanical cleaning. Hydraulic cleaning is usually performed on 6" to 20" lines and involves high pressure jetting and root cutting. Mechanical cleaning is usually used on 21" diameter and larger pipe, depending on conditions and what type of material needs removed. The mechanical cleaning is performed with bucket machines, band cutters, and triple disc swabs that LMI builds in house, which exceeds most industry standards. LMI does not limit themselves to the standards that others have set.
CCTV VIDEO INSPECTIONS
Lot Maintenance also performs a large amount of CCTV inspections on a large variety of pipe sizes and types. LMI is equipped with Cues cameras and transporters. Data is collected on Cobra software and all video is digital. Lot Maintenance has four PACP certified camera technicians each with an average of twelve years of experience in the field. LMI will provide customer with video footage on a flash drive for ease of review.
PIPELINE VACUUM CLEANING SERVICE
Vacuum service is a growing field in recent years, which Lot Maintenance maintains all the capabilities of providing. Main customers that benefit from LMI sewer vacuum services include large and small municipalities, with work consisting of treatment plant structures and wet wells. Lot Maintenance is looking to expand this division with hydro-excavation services as well.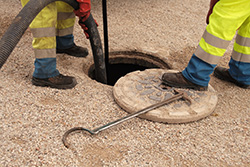 MANHOLE REHAB/REPAIR
Another industry related service Lot Maintenance offers is manhole inspections and repairs. We have three MACP certified technicians on staff for inspections. LMI's vast experience on manhole repairs over the years ranges from small manhole raises to partial and complete manhole replacements. Lot Maintenance is also experienced in manhole interior coating and vacuum testing.
Lot Maintenance is proud to be a NASSCO member and works to continually grow each year. Being a member of NASSCO, the industry setting leader, along with years of experience, allows Lot Maintenance to feel extremely confident that we are providing our customers with the best solution for all their needs.