Snow/Ice Removal
In the Midwest you never know what kind of winter you will get, so when the temperatures drop and snow and ice begin to fall you can count on the professionals with Lot Maintenance of Oklahoma to provide exceptional snow and ice management. We are certified, bonded and fully insured at managing your winter weather problems.
SERVICES OFFERED
Snow plowing
Snow removal/haul off
Salt/sanding- Pre and Post treatment
Dump Truck Services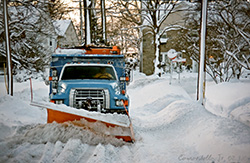 RIGHT EQUIPMENT FOR THE JOB
In addition to trucks with plows attached, LMI uses four wheel drive heavy duty tractors with loaders and/or plows attached, which allows them to clear more snow in less time, allowing LMI to get to places others can't and get the job done more quickly and efficiently. For the smaller areas, Lot Maintenance uses skid steers and ATV's which allow easy and quick maneuverability and access.
With extensive years in the snow/ice business, Lot Maintenance is the company that other companies call when a job gets to be too much. With ample snow removal equipment on hand at all times, there is no job too big or too small. As a premier snow removal contractor for the City of Tulsa, we are experienced in handling every level of severe weather.
Lot Maintenance was responsible for clearing 50% of the city of Tulsa streets after the ice storm of 2007 and again after the blizzard of 2011. Our experience and qualifications are unmatched and satisfaction and safety are always our top priorities. Keep your business open when snow and ice strike and call Lot Maintenance to clear a path for your customers.
Other Services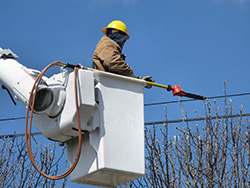 Lot Maintenance expands their capabilities; they can now offer state of the art tree management services. LMI is dedicated to being the area's premier tree maintenance and right-of-way contractor for federal, state and local highway departments as well as individuals or private companies. Providing them with professional, cost-effective vegetation management services and equipment, including:
Mowers / Mulching Machines
Side Trimmers
Aerial Lifts
Split Dumps
Chippers
Herbicide Equipment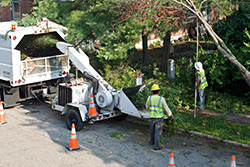 Lot Maintenance's Experience:
Sight-line problems along roads and intersections
Overhanging tree canopies
Roadside brush problems
Noxious weeds
Debris removal
Areas requiring herbicide applications
Storm and Disaster Clean-up and Relief
Lot Maintenance has experience with every kind of catastrophic weather events such as ice, snow, tornadoes or hurricanes. With one quick call to Lot Maintenance, their experienced crews will be on the job to mitigate the damage. LMI has been responsible for helping clean up half of the city of Tulsa after two natural disasters in the past 10 years, proving their commitment to excellence and exemplifying that they are the company to call when wicked weather affects your area.
Lot Maintenance of Oklahoma knows how to prioritize and assess each situation at hand. Ensuring that in the chaos that follows a terrible storm; steadfast, loyal employees will be there to clean up the mess left behind. When you need your area cleaned up, call the trustworthy company who gets the job done right the first time, Lot Maintenance of Oklahoma, Inc.
Authorized Schulte Dealer